Mykologia
Tematyka badań
Przedmiotem zainteresowań naszego zespołu są przede wszystkim stare ewolucyjnie linie grzybów lądowych (Mucoromycota) oraz ich szeroko pojęte interakcje bakteriami. Pleśniakowce (Mucoromycota) są grzybami powszechnie spotykanymi w różnych siedliskach, w różnych częściach świata. Znakomita większość z nich to organizmy rozkładające martwą materię organiczną. W ostatnich latach okazało się, że wewnątrz strzępek niektórych pleśniakowców mogą występować bakterie. Ich różnorodność oraz czynniki wpływające na częstość ich występowania czy fizjologię gospodarza pozostają jednak słabo poznane. W naszym zespole zajmujemy się zarówno badaniem ewolucji i ekologii, jak i fizjologii tej grupy grzybów. W szczególności interesują nas ich przystosowania do środowisk ekstremalnych (Arktyka, Antarktyka, obszary roponośne Iranu, gleby skażone). Badania prowadzimy z wykorzystaniem nie tylko klasycznych metod hodowlanych, ale również najnowszych technik molekularnych czy narzędzi bioinformatycznych.
Dodatkowo niektórzy z nas (mgr Michał Gorczak) zajmują się ewolucją i różnorodnością grzybów owadobójczych, ze szczególnym uwzględnieniem Laboulbeniomycetes, grupy grzybów workowych, która oprócz skrajnie wyspecjalizowanych pasożytów stawonogów obejmuje również pasożyty innych grzybów.
Prowadzimy również działalność popularyzatorską (m.in. link do filmu "O magii poszukiwania"), wykonujemy inwentaryzacje i ekspertyzy mykologiczne.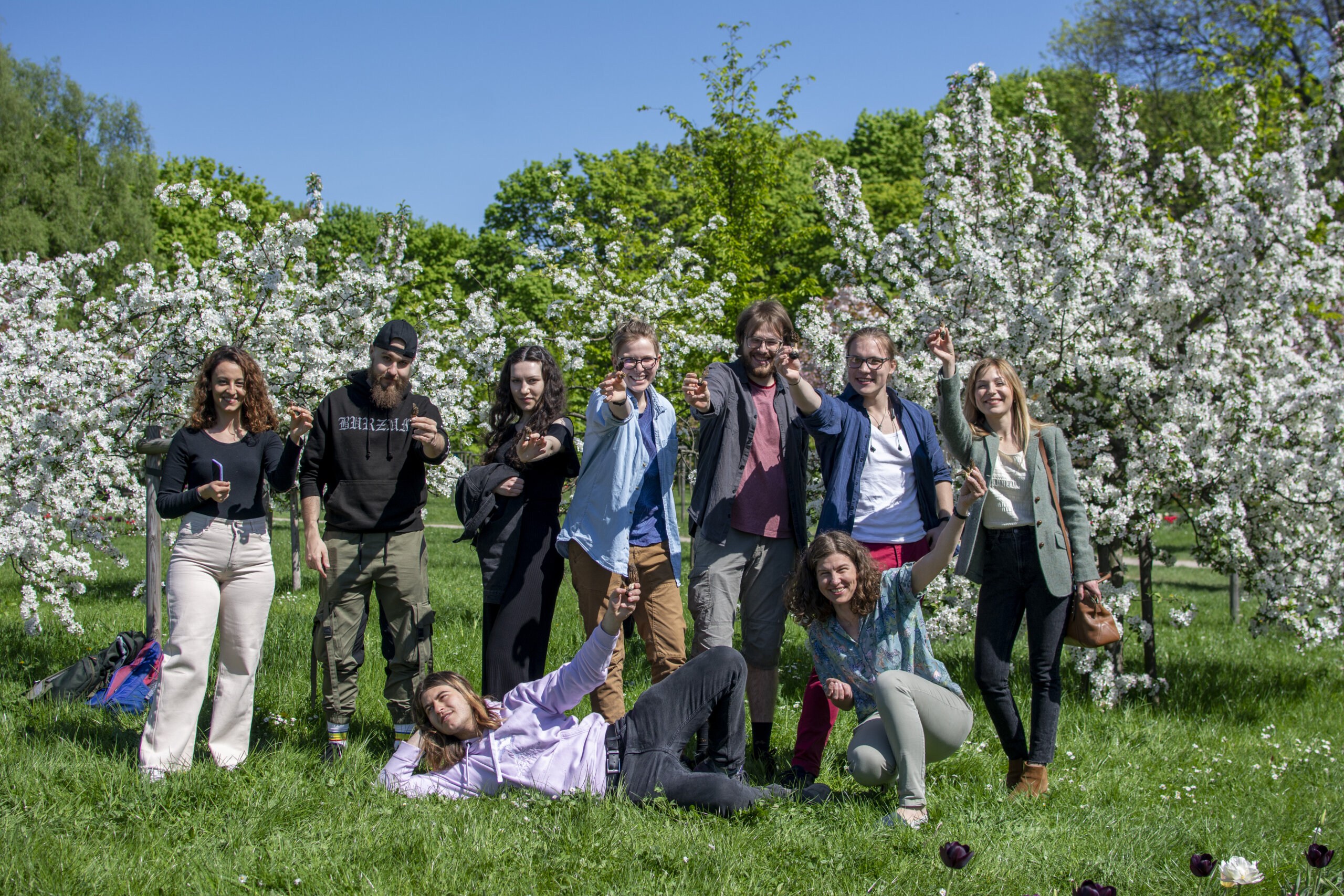 Projekty w toku
NCBR Tango-IV-C/0005/2019: Opracowanie biostarterów wspomagających dojrzewanie mięsa wołowego na sucho (kierownik Julia Pawłowska) [więcej informacji]
NCN  Preludium 20 nr 2021/41/N/NZ8/01994: Razem czy osobno – jak bakterie wewnątrzstrzępkowe wpływają na swojego grzybowego gospodarza? (kierownik Alicja Okrasińska) [więcej informacji]
Monitorowanie rozprzestrzeniania się złotaka wysmukłego (Aureoboletus projectellus) w Europie [więcej informacji]
Projekty zakończone
NCN OPUS 13 nr 2017/25/B/NZ8/00473: Wpływ zanieczyszczenia gleby na występowanie i różnorodność przedstawicieli Mucoromycota oraz ich bakteryjnych endosymbiontów (kierownik Julia Pawłowska) [więcej informacji]
NCN SONATA nr 2015/17/D/NZ8/00778: Ewolucja zdolności asymilacji różnych źródeł węgla u przedstawicieli rzędu Mucorales (kierownik Julia Pawłowska) [więcej informacji]
Iranian ICRP nr 364 (3/7/2019): Phylogenetic and Evolutionary Study of mucoralean fungi from Iran with bioremediation potential for oil conatminated soils
Iranian National Science Foundation nr 96003337 (2017-2019): Phylogenetic and evolutionary study of black yeasts from Iran with bioremediation potential for oil- contaminated soils
MNiSW nr DI2014012344: Phylogenetic classification of Laboulbeniales in the light of evolution of other entomopathogenic fungi (kierownik: Michał Gorczak).
MNiSW nr DNM/SP/468952/2020: Monografia "Grzyby chronione Polski"
MNiSW nr N303 548839: Filogeneza i taksonomia rodziny Thamnidiaceae na podstawie danych morfologicznych, molekularnych i fizjologicznych
Współpraca
Przykładowe publikacje
2022
Marginal lands and fungi – linking the type of soil contamination with fungal community composition Journal Article
Environmental Microbiology, 2022.
2021
Metabolic Potential, Ecology and Presence of Associated Bacteria Is Reflected in Genomic Diversity of Mucoromycotina Journal Article
Frontiers in Microbiology, 12 , pp. 239, 2021.
New Endohyphal Relationships between Mucoromycota and Burkholderiaceae Representatives Journal Article
Applied and Environmental Microbiology, 87 (7), 2021, ISSN: 0099-2240.
2019
Carbon assimilation profiles of mucoralean fungi show their metabolic versatility Journal Article
Scientific Reports, 9 , pp. 11864, 2019.
Aureoboletus projectellus (Fungi, Boletales) – An American bolete rapidly spreading in Europe as a new model species for studying expansion of macrofungi Journal Article
Fungal Ecology, 39 , pp. 94 - 99, 2019, ISSN: 1754-5048.
2017
Psychronectria hyperantarctica, gen. nov., comb. nov., epitypification and phylogenetic position of an Antarctic bryophilous ascomycete Journal Article
Mycologia, 109 (4), pp. 601—607, 2017, ISSN: 0027-5514.
Finansowanie: