Genomika i ewolucja mikroorganizmów eukariotycznych
Tematyka badań
Prowadzone przez nas badania dotyczą różnorodności, ekologii i ewolucji mikroorganizmów eukariotycznych. Interesują nas zagadnienia ewolucji komórki eukariotycznej, w tym ewolucji organelli endosymbiotycznego pochodzenia, a także wpływu horyzontalnego transferu genów na ewolucję Eukaryota. Badania genomów i transkryptomów mikroorganizmów eukariotycznych pozwalają na poszukiwanie odpowiedzi na pytania dotyczące wczesnych etapów endosymbiozy, ewolucji genomów organellarnych oraz redukcji organelli. Staramy się również zrozumieć jaką rolę odgrywają mikroorganizmy eukariotyczne w środowiskach wodnych, poprzez badanie ich różnorodności i potencjału metabolicznego oraz ich interakcji z innymi mikroorganizmami.
W naszych badaniach wykorzystujemy zarówno  techniki hodowli i izolacji komórek, jak również metody biologii molekularnej. Przede wszystkim jednak korzystamy z możliwości jakie niesie sekwencjonowanie nowej generacji i analizy bioinformatyczne. Pracujemy z danymi z sekwencjonowania genomów, transkryptomów, metagenomów czy też amplikonów. Rozwijamy również własne narzędzia bioinformatyczne przystosowane do pracy z danymi pochodzącymi z eukariota.
Aktualności
16 stycznia 2022
Oferta pracy! Poszukujemy pracownika technicznego, który dołączy do naszego zespołu i weźmie udział w realizowanych projektach. Jeśli szukasz pracy, która da Ci możliwość wszechstronnego rozwoju w zakresie biologii molekularnej, badań różnorodności biologicznej i sekwencjonowania nowej generacji to praca dla Ciebie!  Na zgłoszenia czekamy do 15 lutego 2022 r. Więcej szczegółów znajdziesz w poniższym ogłoszeniu.
14 stycznia 2022
Już jest dostępna najnowsza publikacja naszego zespołu opisująca narzędzie Tiara, które służy do klasyfikacji sekwencji metagenomowych. Zachęcamy do korzystania!
21 grudnia 2021 
Gratulujemy dr hab. Annie Karnkowskiej stypendium NAWA im. Bekkera, które umożliwi jej wyjazd na staż naukowy do IBE Barcelona!
26 listopada 2021 
Gratulujemy mgr Pawłowi Hałakucowi, którego grant Preludium uzyskał finansowany i będzie realizowany w naszym zespole!
1 października 2021
Witamy w zespole nową doktorantkę Valentinę Smacchia!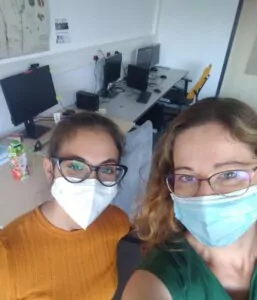 Projekty
Zespoły mikroorganizmów słodkowodnych w gradiencie eutrofizacji: różnorodność i interakcje protistów i bakterii, Grant Opus, Narodowe Centrum Nauki
Evolution of phototrophy in eukaryotes, EMBO Installation Grant
Ewolucja i funkcja plastydów bezbarwnych glonów z grupy Euglenophyta i Dictyochophyceae, Grant Sonata, Narodowe Centrum Nauki
Ewolucja i funkcja odwróconych powtórzeń (IR) w genomach plastydowych Euglenophyta, Grant Preludium, Narodowe Centrum Nauki
Inverted light microscope for the single-cell isolation of microbial eukaryotes, EMBO Young Investigator Small Grant
Establishing protocols for the long-read sequencing of microbial eukaryotes, EMBO Young Investigator Small Grant
Współpraca
Przykładowe publikacje
Tiara: deep learning-based classification system for eukaryotic sequences Journal Article
Bioinformatics, 38 (2), pp. 344–350, 2022.
Euglenozoa : taxonomy, diversity and ecology, symbioses and viruses Journal Article
Open Biology, 11 (3), pp. 200407-200407, 2021, ISBN: 0000000337.
High quality genome assembly of the amitochondriate eukaryote Monocercomonoides exilis Journal Article
Microbial Genomics, 2021.
Highly reduced plastid genomes of the non-photosynthetic dictyochophyceans Pteridomonas spp. (Ochrophyta, SAR) are retained for tRNA-Glu-based organellar heme biosynthesis. Journal Article
Frontiers in Plant Science, 11 , pp. 1859 , 2020.
Analyses of environmental sequences and two regions of chloroplast genomes revealed the presence of new clades of photosynthetic euglenids in marine environments Journal Article
Environmental Microbiology Reports, 12 (1), pp. 78-91, 2020.
The genus Prototheca (Trebouxiophyceae, Chlorophyta) revisited: Implications from molecular taxonomic studies Journal Article
Algal Research, 43 , pp. 101639, 2019, ISSN: 2211-9264.
Should I stay or should I go? Retention and loss of components in vestigial endosymbiotic organelles Journal Article
Current Opinion in Genetics & Development, 58-59 , pp. 33-39, 2019, ISSN: 0959-437X, (Evolutionary genetics).
Dictyochophyceae Plastid Genomes Reveal Unusual Variability in Their Organization Journal Article
Journal of Phycology, 55 (5), pp. 1166-1180, 2019.
The Oxymonad Genome Displays Canonical Eukaryotic Complexity in the Absence of a Mitochondrion Journal Article
Molecular Biology and Evolution, 36 (10), pp. 2292-2312, 2019, ISSN: 0737-4038.
Dynamic evolution of inverted repeats in Euglenophyta plastid genomes Journal Article
Scientific Reports, 8 (1), pp. 16071, 2018, ISSN: 2045-2322.
cytb as a New Genetic Marker for Differentiation of Prototheca Species Journal Article
Journal of Clinical Microbiology, 56 (10), 2018, ISSN: 0095-1137.
Finansowanie: